This is probably the most serious blog post I will ever do, or have ever done. It is a call to mental health. Today, Kate Spade was found dead by apparent suicide. She hung her self from a scarf, that was tied to her doorknob. For those of you, who do not know who Kate Spade was, she was a fashion designer and husband to Andy Spade, who co-founded the Kate Spade brand.
Kate Spade's collection is known for bold colors, flirty, and classy prints and designs. I own quite of few things that are Kate Spade. She was my favorite designer. I was saddened by the news of her death. I immediately turned to the internet and found out some interesting information. Kate Spade New York issued a statement on CNN.com, "Although Kate has not been affiliated with the brand for more than a decade, she and her husband and creative partner, Andy, were the founders of our beloved brand." I was shocked by this. I hadn't realized that she was involved anymore with her brand anymore. I do remember reading something somewhere that Coach bought her out. All the articles have read things like she suffered with business decisions, her marriage was a mess; he wanted a divorce and she didn't etc. Whatever the reason, it is not worth it to end one's life.
Kate Spade New York issued this statement: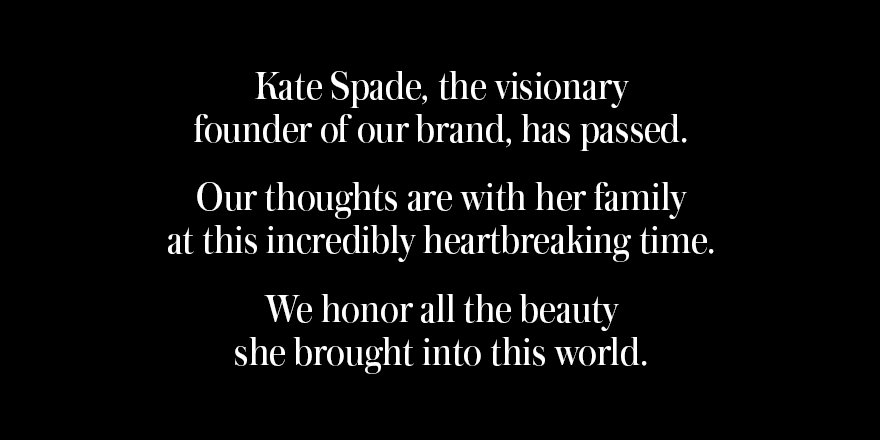 Please if you are struggling, and you need to speak to someone, it is never too late to seek help. No one is ever too far gone.
If you are having thoughts of suicide, call the National Suicide Prevention Lifeline at 1-800-273-8255 (TALK) or go to SpeakingOfSuicide.com/resources for a list of additional resources.]